LIVE from the World (Streaming)
sabato, 29 Febbraio 2020 • 22:30

-

23:30

CET

Libero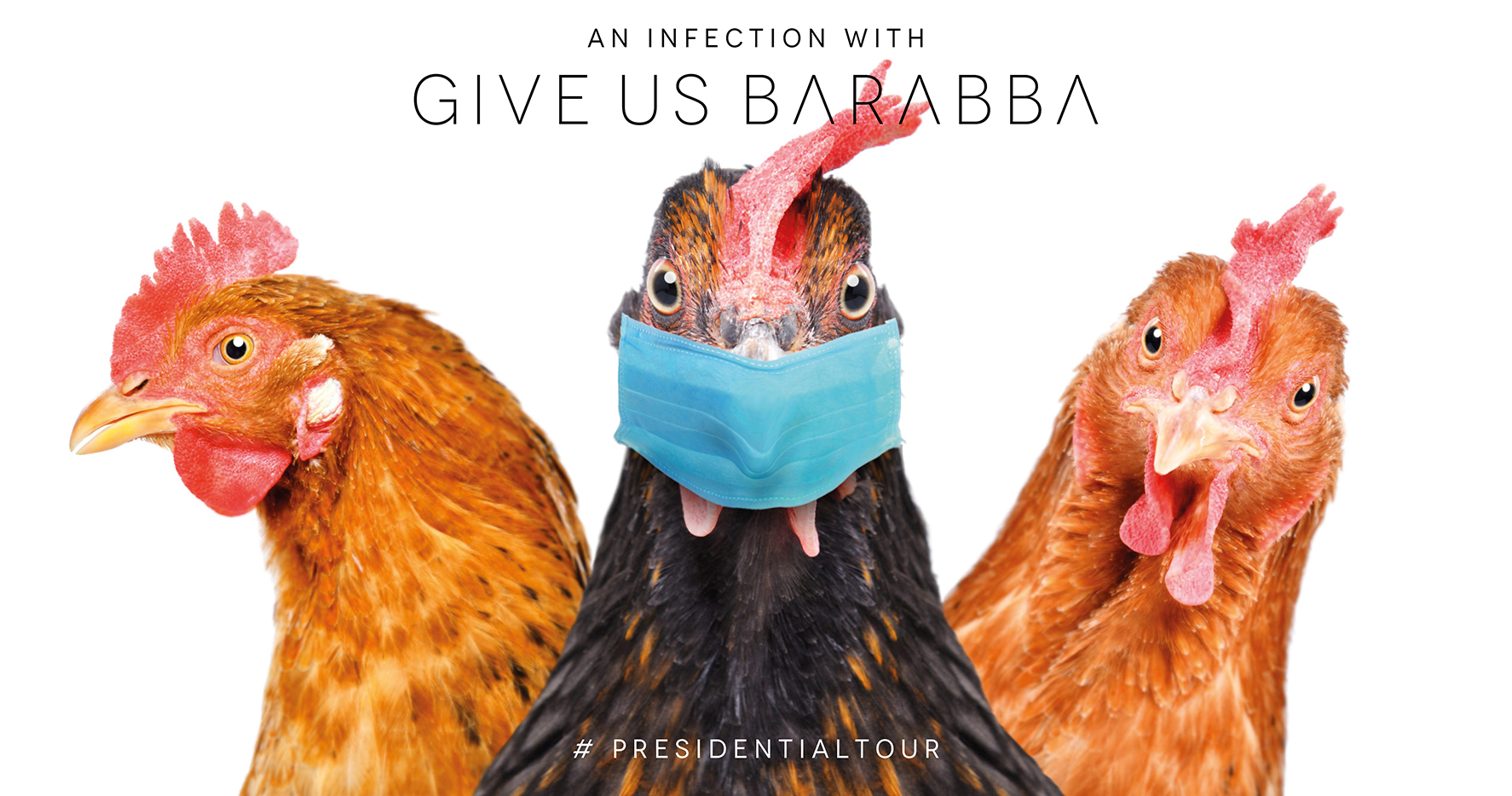 Dopo la cancellazione dell'evento "An evening with Give Us Barabba" del 29 Febbraio 2020 a causa dell'emergenza Coronavirus, i Give Us Barabba tornano live per un evento in diretta streaming!
Il #PresidentialTour parte dal web con il primo appuntamento: "An Infection with Give Us Barabba"!
Per questa speciale occasione, la line-up sarà composta da:
Il Degente – Alessandro Numa
Il Dott. Spallanzani – Osvaldo Indriolo
Serie A TIM si ferma per l'ordinanza – Girolamo Bennici
Il CoronaVirus – Ivan Squarcina
Il Caso non Sospetto – Paolo Braghetto
I Give Us Barabba hanno massimo rispetto ed affetto per le persone ammalate o scomparse e si uniscono al dolore dei loro cari.
Questa performance ha il semplice ed umile scopo di portare un sorriso, per quanto esso sia possibile, per tutti coloro che si trovano in regime di quarantena e che – forse – hanno bisogno di un momento di distrazione!
---
---
Tracklist
01. An International Acrobat Reader
02. Sadomasokissme
03. Your Mother is My Father
04. Happy!
05. Drink Wine = Ass Flames
07. Penis Barbecue
08. Lollipop Flavoured Horse Steak + Sincero (Bugo e Morgan)
09. Everything That I've Learned [Unplugged]
10. Blun7 a Swishland (Tha Supreme)
11. Effetto Coolidge (first preview of 3rd LP)
12. Spider Banana (Phoneutria Nigriventer) + Musica – E Il Resto Scompare (Elettra Lamborghini)